Open Dialogue Live explores design and our health‑care system
By Niecole Killawee for Dal News
When the COVID-19 pandemic started wreaking havoc on health-care delivery around the world, health-care designers began to see where current designs were falling short. Hospitals were overrun with high numbers of patients at different stages of infection and front-line workers weren't adequately protected from the virus while treating their patients. Long-term care facilities struggled with overcrowded rooms that allowed the virus to spread quickly throughout their communities. Families weren't allowed to visit their sick and dying relatives.
How can architecture's confluence of human-centred planning and purpose-driven design lead to the building of pandemic-resilient health-care centres moving forward?
On June 16, the Faculty of Architecture and Planning will host Open Dialogue Live: Design and our health-care system from 6:30 – 7:30 PM ADT to explore how the COVID-19 pandemic has affected health-care delivery and what the future of health-care planning and design will look like in both Canada and the United States.
The moderator of this discussion is Christine Macy, a professor in Dalhousie's School of Architecture and former dean of the Faculty of Architecture and Planning.
Panelists include:
•    Bryan Langlands (BEDS'91, MArch'92) – architect, principal and senior medical planner with NBBJ in New York City, and a member of the Greater New York Hospital Association's COVID Surge Capacity Task Force.
•    Benjie Nycum – architect and CEO of Nycum + Associates in Halifax, and adjunct professor in Dalhousie's School of Architecture.
Designing spaces that work
As with most spaces in the built environment, the design that works needs to serve those using it and whatever system they're working within. In health care there are various stakeholders who require spaces to work a certain way. Doctors and nurses, for example, have distinct roles in patient care that mean they move around a space quite differently. Patients are also important stakeholders, but many who need to rely on the system the most are too sick to participate in standard engagement processes. Architects often push to protect their voice so designs will work for them too.
"When you design these spaces, who actually sets the priorities? Are they designed for the experience of the patients or the caregivers?" says host Christine Macy.
She refers to the evolving designs of maternity wards to emphasize how these spaces went from being built to support the efficiency of the doctors' experience before moving to better accommodate the nurses' experience. These days, many maternity wards are designed from the perspective of the woman in labour and delivery.
Panelist Benjie Nycum says that health-care spaces require designs that consider the convergence of highly complex technology with highly complex social decision-making.
"The building that we design has to fit in that system or change the system by its design," says Nycum, who's architecture firm has worked in health care design and planning since the 1980s.
Maternity wards are one example where designs that began prioritizing patient experience changed the system — that is, how the caregivers work on a day-to-day basis — over time.
Short-term operational solutions to address the pandemic have certainly changed the system of health-care delivery over the last year, so what does that mean for the future of health-care design? Will today's designs fit this new system?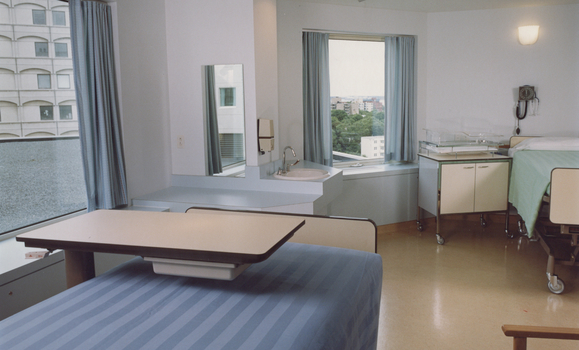 When Nycum + Associates designed the IWK-Grace Women's Hospital (now IWK Health Centre) in the 1980s, they wanted windows in maternity rooms large enough for patients to see out of while lying down. Bringing the windowsill lower led to innovation in the heating assembly installed underneath, and now that compact technology is widely available today. (Courtesy of Nycum + Associates)
COVID the disruptor
Telemedicine has been an option for doctors and patients for years, but it hadn't gained much traction until the pandemic put an end to all non-essential social contact. Both physicians and patients saw benefits: caregivers had time to book more appointments and patients didn't need to spend half their day getting to and from appointments. Now it seems that telemedicine could be here to stay.
Another change in Nova Scotia's system is seen when booking and receiving COVID vaccines. The new online platform was introduced during the pandemic and lets you book your vaccine appointment at one of many pharmacies across the province.
"COVID has demonstrated that a lot of parts of the system can be done differently," says Nycum. "What does that tell you? It tells you in a time of crisis or disruption, the system gets to change."
Nycum says the pandemic-related changes to the health-care delivery system has made him and others in his field re-examine the infrastructure they once designed and built given the sudden pivot to online platforms.
"We're just trying to picture where we'll be as technology converges into disruption in the health-care industry and the practice of health care changes," says Nycum.
Adapting to pandemic-preparedness
Panelist Bryan Langlands works with a number of American academic medical institutions through NBBJ's New York office. The planning and design projects under his purview consider how COVID learnings can be implemented in these new builds.
"We're looking at things like increased oxygen capacity, increased ventilators, and how many pieces of equipment we can get into a patient room," says Langlands. "We're looking at whether there should be the ability for facilities to have negative-pressure environments in many, many more places."
But as institutional responses to the pandemic attempted to prioritise the health and safety of workers and patients first and foremost, Langlands noticed the widespread no visitation policies had a significant psychological impact on many. Not just patients and their families, but those providing care and experiencing the pain of separation on behalf of their patients.
"We saw a weakness in our design, because while in that mode of protecting everyone, our designs didn't support the patient and family experience," says Langlands. "We need to design a facility where when you're in safety and protection mode, all other health-care design priorities aren't lost."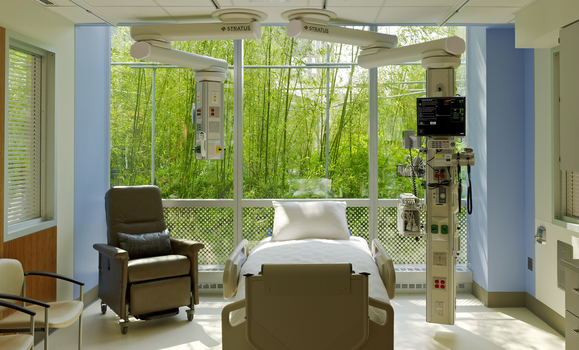 Light-filled patient rooms can be restorative spaces that help patients and visitors find ease during challenging times, like this one at Massachusetts General Hospital (Photo credit Frank Oudeman courtesy of NBBJ).
Canadian and U.S. systems
Panelists will also use the Open Dialogue platform to discuss the differences in health-care design between Canada and the United States.
Langlands says the pandemic heightened the social dialogue around inequity and health care in the United States given that the system is predominantly private and insurance based. Infection rates and mortality were higher in groups who were more socially and economically vulnerable. Whereas in Canada, the government oversight of health care is more likely to ensure that anyone who needed treatment would receive care.
Of course, there are pros and cons to both approaches, each coming with their own sets of expectations around design. Nycum says the market-based concept of health-care delivery in the US leads to efficiently executed projects, but design and build projects in Canada are influenced by political agendas that can lead to prolonged project timelines.
Panelists will explore all of these topics in-depth. Watch the replay on YouTube  or Facebook Live.