Diving into Shark Conservation & Research in Nova Scotia
Thursday, June 08, 2023
Time & Location
6 p.m. ADT

In person
Atrium, Steele Ocean Sciences Building
1355 Oxford Street, Halifax
In celebration of World Ocean's Day, Dalhousie's Faculty of Science is hosting its third annual ocean-themed panel discussion.
This year's discussion welcomes subject matter experts from Dalhousie University and the community for an in-depth conversation exploring shark conservation and research in Nova Scotia.
Guest speakers include Kirsti Burnett (BSc'15) (SHARCC), Dr. Chris Harvey-Clark (Dalhousie), Dr. Manuel Dureuil (PhD'19) (SHAARC) and Dr. Fred Whoriskey (Ocean Tracking Network) with event moderator, Vanessa Schiliro.
Join us to learn about the fascinating behaviours of sharks and the latest research taking place in Nova Scotia. Members of the audience will have the opportunity to ask questions following the discussion.
About the speakers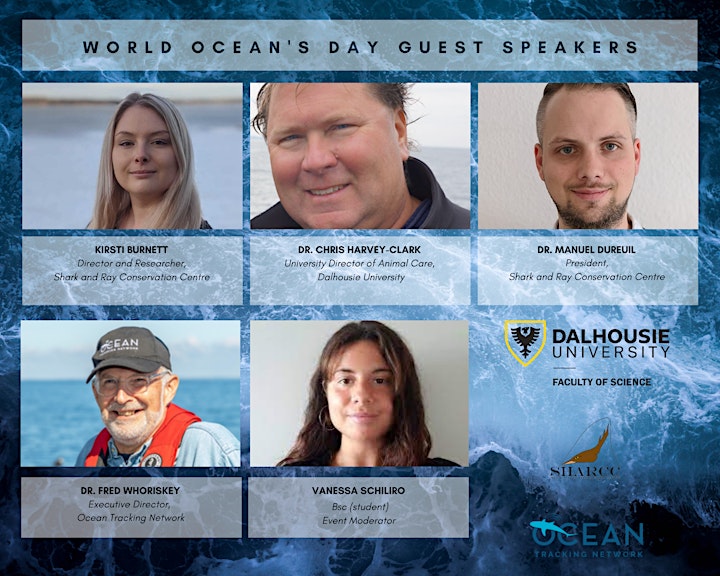 Kirsti Burnett (BSc'15), Director and Researcher, Shark and Ray Conservation Centre
Kirsti obtained her BSc in Marine Biology from Dalhousie University, followed by her MSc in Marine Biology at the University of Bremen in Germany. She has held positions with the Ocean Frontier Institute, the Alfred Wegener Institute Helmholtz centre for polar and marine research and Dalhousie University. Currently she is a Director and researcher with the Shark and Ray Conservation Centre (SHARCC).
Dr. Chris Harvey-Clark, University Director of Animal Care, Dalhousie University.
Dr. Chris Harvey-Clark obtained his BSc from the University of Victoria, followed by his Doctor of Veterinary Medicine from the University of Saskatchewan. He is currently appointed as University Director of Animal Care at Dalhousie University and has published over 50 research and clinical papers. In addition, he's written and filmed in more than 30 documentaries for the Discovery Channel, BBC, National Film Board of Canada, History Channel, Netflix and National Geographic. He is also an avid image maker and diver, and participated in the creation of the Sharkwater film series.
Dr. Manuel Dureuil (PhD'19), President of Shark and Ray Conservation Centre, IUCN Shark Specialist Group Northern Europe Member
Dr. Manuel Dureuil is an award-winning shark scientist who has received his PhD from Dalhousie University, where he studied the life history of sharks and their threats to investigate how this can be used to aid species conservation. In 2016 Manuel co-founded the not-for-profit organization Shark and Ray Conservation Centre (SHARCC). Since 2017 he has been co-teaching one of Dalhousie University's most popular Seaside courses on the Biology and Conservation of Sharks, Skates and Rays. He is also a member of the International Union for Conservation of Nature shark specialist group. Manuel's aim is to fill critical knowledge gaps on threatened shark and ray species, gather historical information, develop minimally invasive ways to monitor populations, support science-based restoration and conservation plans, and to passionately educate about these fascinating creatures on his mission to help ensuring the species survival.
Dr. Fred Whoriskey, Executive Director, Ocean Tracking Network
Dr. Whoriskey obtained his BSc from Brown University, followed by his PhD from the l'Université Laval. He's held positions with the Woods Hole Oceanographic Institution, a NATO postdoctoral fellowship at the University College of Wales (now Aberystwyth University), McGill University and Dalhousie University. In addition, he's served on boards such as the AquaNet National Centre of Excellence in Aquaculture, the Atlantic Salmon Research Join Venture, the Canadian Rivers Institute and the Huntsman Marine Science Centre. Internationally, he's served as a member of the European Union's SeaMonitor Project and science advisor to Germany's MeerWissen Initiative. Dr. Whoriskey is currently the Executive Director of the Ocean Tracking Network.
The event will be moderated by Vanessa Schiliro, a Bachelor of Science student completing an honours in marine biology under the supervision of Dr. Boris Worm.
Contact us
Have any questions? Email jocelyn.adams@dal.ca.
Register to attend