Alumni celebrated on Ag campus
By: Stephanie Rogers
The Faculty of Agriculture's Blue & Gold Awards program celebrated three outstanding alumni this past homecoming weekend.
Distinguished Alumnus – Charles Keddy, Class of '73
Volunteer of the Year – Valerie Carmichael, Class of '70
Young Alumni Achievement Award – Ryan Barrett, Class of '02
Learn more about each below:
Distinguished Alumnus Award:  Charles Keddy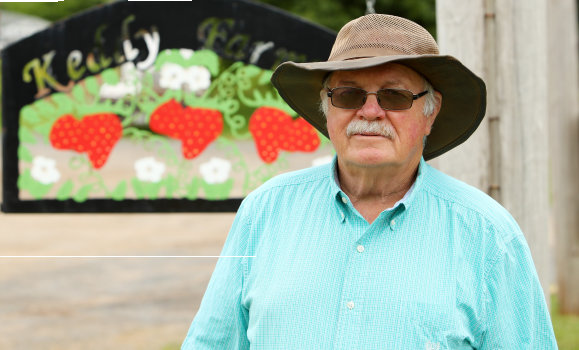 Since 1977 Charles Keddy and his wife Doris have built a successful business known as C.O. Keddy Nursery Inc while raising three children. From the first crop harvested off two acres and sold locally to today, C.O. Keddy Nursery Inc is a successful business growing 110 acres of nursery stock shipping across North America.  The farm continues to grow and expand in Lakeville, NS. and visitors are always welcome
Charles had always wanted to farm since he was a child and worked on neighboring farms which prompted him to attend the AC.  With his Plant Science diploma in hand in 1973 he began the journey to start his successful nursery business.
"It's one of the most honourable professions you can do because you are feeding people, you are feeding the world; it's the satisfaction you get knowing you are feeding people," he said.
His son Phillip joined the farm after graduating in 2006 and began to work with sweet potatoes.  They are now the largest growers of sweet potatoes east of Southern Ontario.
"The biggest challenge was building a farm operation from literally nothing to at the height of the season having 80-100 seasonal workers," he added.
Charles and his wife Doris are currently transitioning the farm to their son Phillip and his family.
"More young people are beginning to see a career in farming, its not the hard labour anymore its being able to manage."
Volunteer of the Year: Valerie Carmichael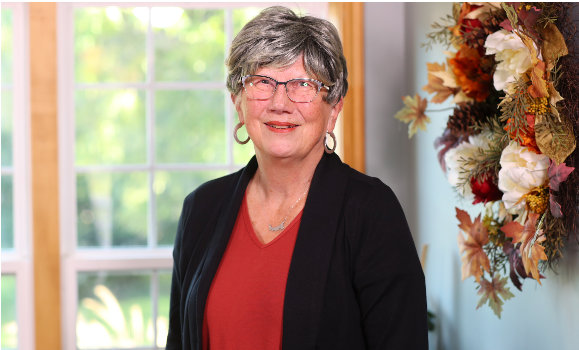 When Valerie Carmichael, Class of '70, attended the AC she was one of 25 girls amongst 250 males.  After completing her two years in Truro she completed her honours program in food science at McGill.
Valerie is currently the owner/manager of C&M Farms Ltd, a 100-cow dairy farm in Williamstown, New Brunswick.  While busy in this role and others throughout her career, Valerie continually gives back to her community through her expertise in agriculture, food, and youth.
Trained in youth engagement and suicide intervention, Valerie engages with many youth groups including 4-H, her church and Rotary.  She was the National rep for the NB Breakfast for Learning Council, the president of the NB Association of Food Banks, and chair of the Woodstock Young Adult Health Coalition Chair, among many others.
"Being a volunteer, you are building community," she explained. "I think you are helping people become the best that they can be. I love to work with other people and feel all the volunteer work I have done is that extension, the value of community and people working together."
Valerie goes back to her agriculture roots and says she is passionate about wellness – nutritionally, mentally, physically, and emotionally.
"Everyone has given something and added to my life and in doing that I hope I've done the same," she added.
Young Alumni Achievement Award: Ryan Barrett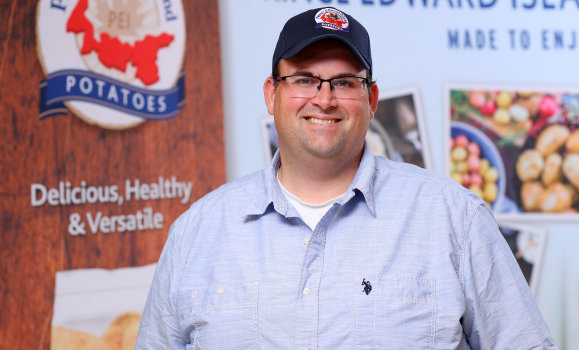 Ryan Barrett, a professional agrologist and member of the Class of 2002, is the research and agronomy specialist with the Prince Edward Island Potato Board.  In this role, Ryan coordinates local and national research projects with several different partners as well as conducting on-farm research trials with several PEI potato growers.
Ryan is the vice president of the PEI Institute of Agrologists and serves an executive role in several different organizations, all while staying involved in his family's dairy farm, breeding registered Milking Shorthorns.
After leaving the AC, Ryan completed his master's at the University Guelph
The core of my job is working with the research community and the grower community and putting them together when it comes to grower directed research," he explained.  "There is a need for growers to help fund research and also help direct it."
Ryan was recently recognized with the PEI Farm and Food Care Farming Champions award which honoured the effort he has made to advocate for agriculture in general in PEI.
"I really like working with producers to solve problems," added Ryan.  I get a lot of satisfaction from that.  My time at AC was very fundamental as to who I became as a person."